Coach Soak Recovery Cream - Magnesium Rich Lotion
To enable the subscription, first select the subscription option, then click add to cart. The fast payment option can be applied at checkout. Subscriptions won't be enabled otherwise.
Achieve the ideal post-workout recovery with Coach Soak Recovery Cream. This magnesium-rich lotion is easily absorbed into the skin, providing a burst of hydration and nourishment. The unique blend of magnesium and other natural ingredients helps to reduce inflammation and improve circulation, making it an excellent choice for post-workout recovery.
🧴 YOUR POST-WORKOUT MUSCLE RECOVERY PARTNER: With Coach Soak's Magnesium Lotion, you can alleviate pain, cramps, and muscle tension; this magnesium chloride lotion absorbs quickly for faster results.
🧴 RESTORES AND NOURISHES THE BODY:  This transdermal solution restores your muscles, exfoliates dead skin, moisturizes dry skin, and gives you smoother and softer skin.
🧴 IMPROVES GOOD NIGHT'S SLEEP: Coach Soak magnesium lotion has organic ingredients such as aloe leaf juice, menthol crystals, and lavender oil, which help calm the mind and improve sleep. Recover your leg cramps, restless legs, and restore muscles while you sleep.
🧴 GREAT COMPLIMENT WITH A BATH SOAK: Coach Soak also offers bath salts in different scents, which are perfect with our new magnesium sleep lotion. After a hot shower, apply the magnesium lotion to your skin while spending time in the bathtub.
🧴 100% GUARANTEE:  Thousands of athletes trust Coach Soak to reduce fatigue and soothe aches and pains! If you don't love Coach Soak, it's on us. No questions asked. You'll never want to use regular magnesium lotion again after trying our magnesium lotion with MSM.

| | |
| --- | --- |
| Size: | 100ml |
| Main Ingredients:  | Magnesium Chloride, MSM, Vitamin C Crystals, Dead Sea Salt, Aloe Leaf Juice, Menthol Crystals, and Pure Essential Oils  |
Benefits of Coach Soak Recovery Cream
Recovery Cream ingredients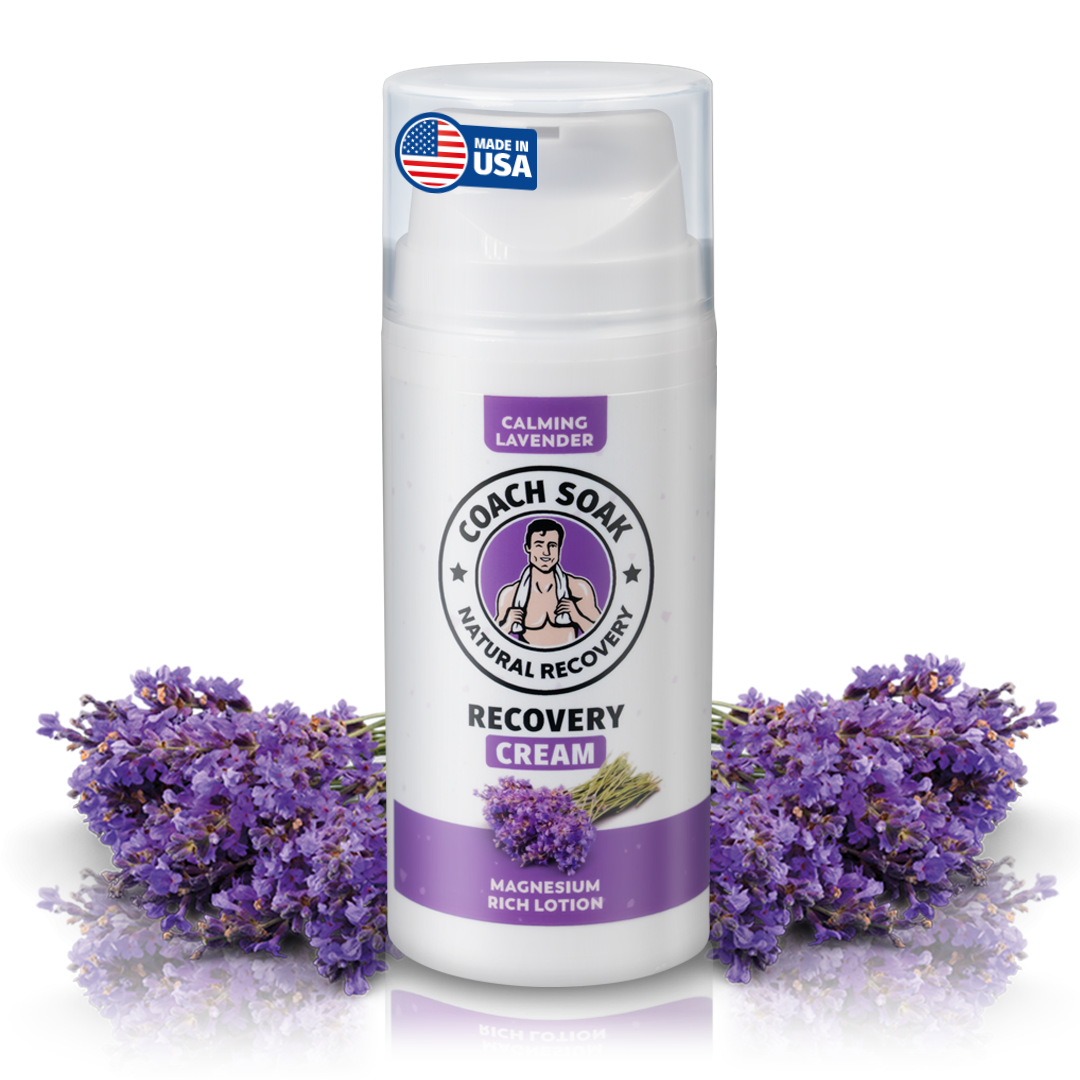 Fast-Absorbing Magnesium Chloride Flakes

Absorbs faster than Epsom salts and magnesium sulfate, helping to alleviate muscle pain and speed up recovery process.

Moisturizing Vitamin C Crystals

Our formulas contain Vitamin C crystals to help moisturize, soothe, and soften skin.

Level up with MSM (Methylsulfonylmethane)

MSM is an organic sulfur that works synergistically with Magnesium Chloride & Vitamin C for advanced muscle recovery, and is effective for detoxification and skin inflammation.

Pure Essential Oils

Chosen to support muscle recovery, nourish your skin, and provide a pleasant aromatherapy experience.  Our formulas are non-toxic, not tested on animals, no parabens.